If you're looking for social media management in Perth then we here at the Social Media Association of Australia (SMAAA) have this list of service providers for you …
Atomic Digital Marketing
A Perth born & bred company which has recently expanded to Sydney, Atomic Digital Marketing caters for a wide range of social media services: Instagram, Facebook, Twitter, Pinterest, Linked In, Google+, Snapchat, Viber, and even Chinese social media management and development for Perth companies who want to break into the China market like boutique wine company Rusty Mutt recently did.
www.atomicdigital.com.au
BAM Creative
Let's get to know each other a little more.
We want you to get to know us, just as we'll want to get to know you.
Bam Creative partners with exciting Australian organisations to nurture clever digital marketing, helping brands realise their goals.
We've been around since 2002, but don't let our depth of experience make you feel we're old school. We're constantly evolving, moving and growing, just as technology does, and as our clients' need change.
Our creative work has been featured in media outlets, we've spoken at many events across the nation and we've won a trophy cabinet full of awards.
Our services are driven by what works in digital marketing. We don't profess to do everything, nor do we stick to only one thing. If we can't help you, we know people who can. Collaborative projects? We love these. We think our industry peers are tops!
Take a look around our website, get to know us better, and then let's chat.
Suite 3, 385 Newcastle Street Northbridge WA 6003                                                                                                                         
t (08) 9228 2233 f (08) 9238 4933                                                                                                                                                         
bam@bam.com.au                                                                                                                                                                                        
BONFIRE DIGITAL
Whatever you do, get in touch with us. With so many digital marketing options and opportunities, there's no telling how many online conversions can come from just one little conversation…
We've been dominating digital since 2 B.G. (That's Before Google.)
You couldn't even google Google when our team started out. That was in 1996. Since then, our digital agency in Perth has enabled thousands of clients to grow and grow. Not just online traffic. We're talking bottom line.
That makes us Australia's most experienced digital marketing company.
When you are dealing with a business that dates back to before the birth of Google, you can be sure that you're not dealing with just another agency.
At Bonfire, our business is built on the expertise and experience of some the industries finest, across an array of digital disciplines; SEO, AdWords, Web design & Social. What does this mean to you? It means when you choose Bonfire, you are partnering with a locally based digital team who understands what it takes to succeed online and who knows how to get you there
Ever wished there was one really experienced team that could manage the whole, multi-faceted search engine marketing for you? A team that can help you dominate Google's rankings, generate loads of qualified website traffic and then seamlessly convert it into sales. Well, that's us. Find out why we are Australia's leading search engine marketing agency.
Level 1, 1 Rokeby Road, Subiaco Western Australia 6008
Claire Felices Outsourced Social Media
With a masters degree in English, San Pablo-based Claire Felices has been specialising in the Perth social media market for 8 years. Her excellent social media content is very appealing to small to medium businesses in Perth who want inexpensive outsourced social media for a fraction of the cost they'd pay in Western Australia. Claire only accepts clients who do 12 months minimum though – so show her some respect – she might be cheap, but she's the best in the Philippines, and very in the know when it comes to putting the word "mate" in a sentence.
www.facebook.com/xarisse
Digital Agency Partners
Positive reports about how this company partners with you so you take on the digital challenge and ROI opportunities together. They take a 12.5% commission on revenue and work in social media with websites such as this compensation lawyers website. Social can have a small but effective influence upon Google's algorithms so their focus on incorporating social media widgets into digital magazine websites such as Cancer News helps those sites attract regular targeted traffic. The social media management Perth businesses prefer is of the holistic type – it should engage and incorporate websites, mobile phones, apps, and also quality content as its destination.
www.digitalagency.partners
ME SOCIAL MEDIA CONSULTANTS
ME Social Media was founded in 2014 to fill the growing demand for creative social media marketers and managers. The team of 2 has over a decade worth of social media experience between them, as well as formal education qualifications including a BA in Communications from Curtin University, and an Advanced Diploma in Design.
The ME teams' portfolio is rapidly expanding with the recent signing of clients spanning across Australia, North America, Europe, and Asia. ME Social Media Consultants is all about you and your business – we're passionate about using innovation and creativity to catapult your business into the ever-evolving online sphere.
"Marketing is not about the stuff that you make, but about the stories you tell."
If you're you're looking for a one-size-fits-all "package", you won't find it here. Your business is unique, like our marketing strategy. No recycled content here.
Based in Perth, Western Australia, our unique brand of social media consultation and management has improved the digital presence of locally based businesses, as well as a range of national and international brands.
We provide a hands-on approach to your social media marketing wants and needs. We want to meet you in your work-space, and get to know the ins and outs of your business. We specifically tailor each service to fit your business and budget. We are your biggest fans.
We cater a range of different social media platform including (but not limited to!) Facebook, Instagram, Twitter, Google+, Youtube, and Tumblr. Over the years, we have established strong networks with numerous social media personalities within the industry and can arrange for these influencers to represent and promote your brand to their hundreds of thousands of followers and fans.
The consultants at ME Social Media are both creatively and technically minded, with expert experience in sales funnel automation. We can create a stunning landing page for you, direct traffic to that page via beautifully designed and carefully targeted Facebook ads, win relevant leads, and keep them warm using automated emails. We're passionate about creative lead-generation and attribute my success to my superior use of innovative content, creative design, and a unique approach.
We can create unique content for sharing on a range of social media platforms, guaranteed to engage, inspire, and educate your audience. Much of our client content for has gone viral (see  https://www.facebook.com/Gojimo for proof) and resulted in an explosion of fan engagement – there's really nothing like the feeling of going "viral"!
We can create, manage, and monitor your Facebook Ad campaigns, and we only ever work using the highly advanced Facebook Power Editor tool to ensure the success and ROI of your ad campaign. Having worked with a range of businesses from boutique Australian labels to Fortune 500 companies, we're experts at creating unique digital marketing strategies that reflect the aesthetic of your brand. Contact us for an obligation-free consultation.
Our Services include:
social media management
sales funnels
lead-generation and email marketing
social and digital strategy
training & consulting for individuals and companies
creative content creation & placement
competitions & advertising
blogger/social media "celebrity" promotion
campaign/strategy analysis & reporting
premium graphic designs for social media platforms
www.mesocialmedia.com.au
Perth Marketing Solutions
What We Do: We take all our areas of expertise and use them as a multi-purpose weapon to explode your business and get customers beating down your door for your product or service.
Who We Are: We are passionate marketers, advertisers, social media fanatics and web designers and together we help amazing small businesses reach goals they couldn't even imagine.
What We Offer: We offer our clients a completely flexible way to have their marketing, advertising, social media and web design needs covered in a way that suits them and their business.
OUR SERVICES
Marketing: Talk to your customers and have them listen! We can help you communicate effectively with your audience so they can see everything you have to offer.
Web Design: Let us create you a stunning new website that will not only show off just how great you are, but will also increase your sales.
Photography: A picture tells a thousand words, not matter the task our incredible photographer gets the perfect shot every time.
Advertising: Gain exposure for your brand the right way. Whether it be online or offline we can help you create an advertising campaign that works for you.
Email Marketing: Let us build and fully utilise a targeted, email database so you can advertise your promotions straight to your customers inbox.
Graphic Design: Let our amazing graphic designer create you a stand out logo package or deal with any graphic design work you need done.
Social Media: Join the conversation on Facebook, Twitter, Instagram, Pintrest, Google +, Linkedin or any other industry specific site and get your customers talking.
Blogging: Blogging is a great way to stay relevant with your audience, keep them coming back to your site and to get found on the web.
Public Relations: Let us leverage the media industry and get your name out and about, there are so many opportunities for free press in every industry.
+61 413 558 538 | Call Us for A Free Consultation
7 Fourth Avenue Rossmoyne WA
info@perthmarketingsolutions.com
RED LIPS MEDIA
MEET US
We don't fit an agency stereotype in our structure or street appeal. We prefer to be urban dwellers in the heart of South Perth where our neighbours are real people, dogs and cats and the occasional postie who still delivers mail to our door! Our team is complete with Social, Marketing and Digital geeks who know what they are doing! Even though singing, painting or people watching isn't a requirement to work here – we'll take it!
We prefer to stand out through the work that we do and the success we bring our clients. Our clients are great people with a unique business story to tell and we consider them part of our Red Lips Media family. That's why you will often find us in trenches with clients, hosting events, running workshops or even lighting up a BBQ! We saw a space in the market to help businesses integrate their marketing, create an online presence and get the conversation started socially. We stand by the simplicity of what we do: We make your business stand out!
SEE WHAT WE DO
SOCIAL: We get the conversation started, socially! Whether it's a new Facebook page or enhancing an entire social media platform, we can create the right design, strategy and campaign to meet your objectives. visibility | engagement | content | strategy | reach | conversation | communities | advertising | integration
WEBSITE: We simply create the website that you need for your business. Whether it's a simple design site or e-commerce solution, we will deliver a responsive site suitable for all devices and to your objectives. custom | responsive| content| makeover| rebrand | analytics | speed | landing page | traffic| SEO
SEO/SEM: You have a website, now what? We help you optimize your website and your ranking to ensure consumers can find you. What's a good website without all the traffic right?
relevant content | updates | Google ranking | tags | links | pay per click | search marketing
BLOG: We can't have conversations or create communities without great content. A Blog is a great way to start. Engage your audience with information in their preferred way of communication. Blogging | professional blogging | connect | traffic | lead generation | target customers | blog strategy
MARKETING: We create the one vision to guide your business on the right marketing path. From strategy to integration and campaigns, we ensure that your marketing plan matches your business objectives. return on investment | strategy | measurability | brand | campaigns | integration | traditional | digital
BUSINESS PLANNING: Got a great business idea and don't know where to start? We can assist you in developing a business plan and marketing direction to get you started. business strategy | business coaches | proposals | budget | forecasting | results | pricing | marketing plan
DESIGN: The right design creates your business style guide and brand direction. It's important to get it right the first time. We can assist you in all your design requirements to ensure consistency and delivery of your brand promise. graphic design | responsive web design | branding | logo| creative design
CONTACT US
9 Hardy Street, South Perth WA 6151 Ph: 6142 7911 hello@redlipsmedia.com.au
Ronnie Webb Horse Racing Tipster on Twitter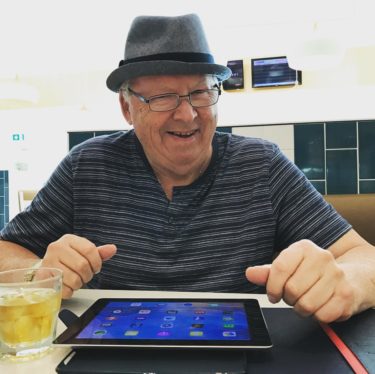 Retired Perth accountant Ronnie Webb always loved a punt.
Within a few months of retirement he got himself a gig tweeting for Pro Group Racing every Saturday. The man knows how to pick a winner according to his partner. Contact him via: twitter.com/progroupracing
SMITH SOCIAL MEDIA                                                           
Here at Smith Social, we care about one thing and one thing only…   Helping you build your business.
We are focused on creating the right strategy that utilises the right platforms for your business. Everyone's business is a one of a kind, and we understand that.
So let Smith Social get to know your business and help bring you into the digital world. Knowing the answer to 'why' is always more important than how, who, when, where & what. An overall strategy is the crucial first step is structuring your limited marketing dollars to gain the most benefit for your business online.
Contact us by phone or via the contact form for a FREE CONSULTATION, anytime.
P: 0415 956 084
A: 885 Wellington St West Perth
By Appointment Only